Ad Fontes Media has today announced that audience reach data from Comscore (NASDAQ: SCOR) has been integrated into its Data Platform's reliability and bias ratings.
Providing context around publication reach, media buyers, sellers, and observers can now access an unduplicated measure of digital audiences across desktop and mobile devices.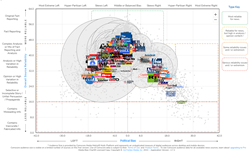 Ad Fontes Media Founder and CEO Vanessa Otero said "It is exciting to be integrating these separate media measurement tools into a single view to help Ad Fontes better respond to today's changing media environment."
Brad Berens, Ad Fontes Advisor and Digital Media Strategist, echoed the sentiment saying: "The result of this integration is a toolset that enables advertisers to more easily understand and activate against their campaign's audience."
This data is viewable in a limited version on Ad Fontes' public Interactive Media Bias Chart. Paid commercial subscribers to Ad Fontes' Data Platform now have the option to include Comscore's Total Digital Population Data.
To learn more about Ad Fontes, visit: https://adfontesmedia.com
About Ad Fontes Media
Ad Fontes Media is the media bias intelligence leader and producer of The Media Bias Chart® which rates media sources in terms of political bias and reliability. The company was founded by patent attorney Vanessa Otero with the mission of rating all the news to positively impact the media ecosystem. In 2021, Ad Fontes Media launched its flagship Ad Fontes Data Platform, a family of integrated media bias intelligence solutions. The Data Platform allows Ad Fontes Media's brand, media, and media technology partners to leverage its comprehensive news source ratings so they can engage with them in real-time in media planning.