Each week, Ad Fontes Media chooses a widely covered trending news topic to share insight into how our analysts rank news coverage for the Media Bias Chart®. To do this, we select six articles reporting on the same story from different outlets to show how each treated the subject. Once we choose a set of articles, pods of analysts with diverse political perspectives (one right leaning, one center, and one left leaning) read each article and use Ad Fontes Media's content analysis methodology to determine its bias and reliability. These ratings inform the articles' placement on that week's special Media Bias Chart.
This week, the topic focused on the partial gag order imposed on former President Donald Trump in the election interference case taking place in Washington, D.C. The gag order barred him from "making statements targeting prosecutors, possible witnesses and court staff" and carries fines for each transgression. The case indicted Trump for his conduct following the 2020 presidential election through the Jan. 6 Capitol attack: conspiracy to defraud the United States under Title 18 of the United States Code, obstructing an official proceeding and conspiracy to obstruct an official proceeding under the Sarbanes–Oxley Act of 2002, and conspiracy against rights under the Enforcement Act of 1870. 
The articles were from Newsweek ("Donald Trump Refuses to Stay Quiet After Gag Order"), NPR ("Judge imposes partial gag order against Trump in election-interference case"), Fox News ("Judge imposes partial gag order against Trump in Special Counsel Jack Smith's Jan 6 case"), National Review ("The Trump Gag Order Goes Too Far"), WND ("Hate Trump all you like, the gag order is still wrong"), and TNR ("Trump's New Whine About Gag Order Is Ridiculous"). If you want to see each article's scores for bias and reliability, hop on over to our topic of the week page for today's topic, "Sound of Silence." From here on down, we are going to look at the differences between two articles: WND (bias: 11, reliability: 36) and TNR (bias: -14, reliability: 34). 
Our source page places WND's overall source score in the Hyper-Partisan Right category of bias and as Unreliable, Misleading in terms of reliability. WND, formerly known as WorldNetDaily, is an independent news site dedicated to "exposing wrongdoing, corruption and abuse of power." Founded in 1997, the site has been accused of publishing conspiracy theories from a far-right perspective, and has aggregate scores of 15 for reliability and 21 for bias.
This week's article was rated as more reliable and less biased than the average scores, but our analysts pointed out that it still was biased based on statements like "the head of the Democratic Party is being mollycoddled by the state in a very similar case involving classified documents." There is a lot to unpack in there but there are more than a few folks who share that sentiment, making the right-leaning statements in the article not as far to the right as they could be. 
The reliability of the article falls into the "analysis or wide variation in reliability" area of the chart and does a little bit of fear mongering with "…there's ample evidence that partisan considerations are in play. Fears of a politicized Justice Department are real… Administrations can now launch prosecutions against political rivals – calibrated to take place in favorable cities and timed to coincide with elections – and then demand gag orders be implemented on those running for office."
This is a legitimate concern from some political analysts, and one shared perhaps less grandly by Trump supporters. This article has quite a bit of analysis from its conservative author, who seems to both strongly dislike Trump but worry about the legal ramifications of gag orders like this one. A temporary stay has already been issued in this case, so we will have to wait and see if this analysis bears any weight. 
On the flip side, our source page places The New Republic (TNR)'s overall source score in the Strong Left category of bias and as Generally Reliable/Analysis OR Other Issues in terms of reliability. New Republic is an editorial magazine and website based in New York City that focuses on politics, culture and the arts. It was founded in 1914, advocating for "liberal reform in a new industrial age," and has aggregate scores of 32 for reliability and -17 for bias. This article did not stray far from its predecessors. 
The subheading reads "Hours after his second gag order, Donald Trump has an absurd attack on Judge Tanya Chutkan" and is accompanied by a well-timed image of said figure appearing to yell onstage against a backdrop of round bales of hay. The article included tweets from Trump in which he stated at a campaign rally, "A judge gave a gag order today" and "The judge doesn't like me too much. Her whole life is not liking me."
The article author goes on to explain, "Previously, Trump used his speaking arrangements and social media presence to lambaste prosecutors and office clerks associated with the case, snubbing the Justice Department's special counsel Jack Smith as "deranged" and his underlings as "thugs." There is not as much analysis in this article as in the previous one, though it does only present one side of the story, and the headline ("Trump's New Whine About Gag Order Is Ridiculous") earned it the "opinion" rating. 
It is always interesting to analyze two opposing takes on the same topic to see how different media outlets interpret and present the same story. Knowing how to evaluate bias and reliability is key to pushing past the media messages to determine what is actually being said. Take a look and check back next week for another deep dive into the Topic of the Week.
And if you want to stay informed on all of our amazing work, visit our website or join our free mailing list!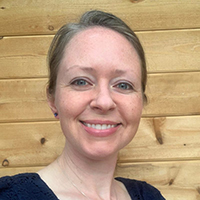 Sara Webb is a cybersecurity consultant and former high school librarian from Philadelphia, PA. She holds an M.S. in Informatics and an M. Ed in School Library and Information Technology, and has been a media literacy educator for over a decade. Sara started with Ad Fontes Media in July 2020 as a Media Analyst, and she currently continues in that role and as in-house Media Literacy Specialist. When not engrossed in media literacy projects, Sara can be found at the barn with her ex-racehorse Homer, or training her corgis for dog agility competitions.