This week was a hot one on the old digital presses, garnering a lot of vitriol in response to U.S. Rep. Mike Johnson's election as Speaker of the House. These attitudes were evident in media coverage of this event, as well. Our analysts took a closer look at six articles about the House vote in our Topic of the Week.
Each week, Ad Fontes Media chooses a widely covered trending news topic to share insight into how our analysts rank news coverage for the Media Bias Chart®. To do this, we select six articles reporting on the same story from different outlets to show how each treated the subject. Once we choose a set of articles, pods of analysts with diverse political perspectives (one right leaning, one center, and one left leaning) read each article and use Ad Fontes Media's content analysis methodology to determine its bias and reliability. These ratings inform the articles' placement on that week's special Media Bias Chart.
Johnson is a Republican representing north and western Louisiana, elected in 2016. He sits on the Judiciary Committee; chairs a subcommittee on the Constitution; is a member of the Armed Services Committee; and has a seat at the newly created select committee on the "Weaponization of the Federal Government." He supported efforts to overturn the results of the 2020 presidential election, opposes abortion and LGBTQ rights, and is relatively inexperienced for a position like Speaker of the House, having been elected to the House just seven years ago..
The articles rated by our analyst team this week were "Dem committee posts false information painting speaker nominee as 'MAGA extremist'" from Fox News, "New House Speaker Mike Johnson leads a GOP majority weakened by decades of declining party authority" from The Conversation, "Who is Mike Johnson? Five things to know about the new Republican House speaker" from NBC News, "Mike Johnson lucked into speaker job — but he has talent to pull it off" from New York Post, "With Rep. Mike Johnson, the House Elected a Fanatic As Speaker" from Esquire, and "Concerned About Democracy? House Republicans Invite You to "Shut Up!" from The Nation. You can view the bias and reliability ratings for each article on our Topic of the Week page, as we are going to take a closer look at the articles from Esquire and New York Post. 
Esquire was founded in 1933 with a mission to "define, reflect and celebrate what it means to be a man in contemporary American culture." Ad Fontes Media analysts have determined that the overall source score for Esquire is -18 for bias, which tips it into hyper-partisan left territory, and 26 for reliability, which places it at the bottom of the opinion or wide variation in reliability area of the chart. This week's article scored -23 for bias and 18 for reliability, which is even more to the left and lower in reliability than Esquire's overall average. 
The subheading of this article stated that "not a single Republican found it objectionable to vote for a guy [who] was central to the white-shoe side of the insurrection," which set the tone for a scathing review of the Republican party in general and Johnson specifically. The article asserted that the "Republican Party is the party of treachery and sedition" and gave Johnson a review as "a blackhearted villain with pleasing countenance, a Jim Jordan in a suitcoat with a patina of religious extremism that gleams like the edge of a blade." A colleague of Johnson is quoted as calling him a "determined idealogue" and another that he is a "MAGA extremist in substance."
This article seems to have been written both in haste, perhaps explaining some of the spelling errors, and in great anger. A quick turn of phrase or some creative imagery can often distract readers from the underlying argument — this one is meant to vilify the newly elected speaker. It certainly deserves the lowest and farthest left rating this week.
The New York Post was founded in 1801 by Alexander Hamilton. Its overall bias skews right with an average score of 8. Its reliability lies at the bottom of the "analysis or wide variation in reliability" segment of the chart, with a score of 33. This article was rated to have a comparatively stronger bias of 14, which places it in the strong right area of the chart, and a reliability of 28, which places it in the opinion category below the overall source reliability score.
Our analysts noted this article "verbally fawns over" the new Speaker: "Mike Johnson, at 51 the youngest House speaker save for Paul Ryan in 150 years, has demonstrated both talent and luck are on his side" and calls his victory "miraculous." He has "formidable communication skills," "works well with all segments of" the Republican conference, and he has a "low-key style" and "willingness to listen" to the more moderate members of his party. This article is labeled as opinion and it sticks to that, heart and soul. 
Both of these pieces are similarly one-sided and either love or hate Johnson. It is easy with articles such as these to see the bias and reliability inherent in different media outlets. If you want a look at the larger media landscape or are curious to see how our analysts have rated your favorite sources, head on over to our website and check out the resources we have available. And don't forget to come back next week for another examination of the Topic of the Week.
Want to stay informed on all of our amazing work? Sign up for our free mailing list!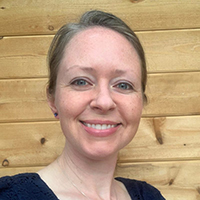 Sara Webb is a cybersecurity consultant and former high school librarian from Philadelphia, PA. She holds an M.S. in Informatics and an M. Ed in School Library and Information Technology, and has been a media literacy educator for over a decade. Sara started with Ad Fontes Media in July 2020 as a Media Analyst, and she currently continues in that role and as in-house Media Literacy Specialist. When not engrossed in media literacy projects, Sara can be found at the barn with her ex-racehorse Homer, or training her corgis for dog agility competitions.